Dear Alumnae,
As I write this, I am thinking of how many of you I will see virtually in two weeks for our annual reunion. I will miss meeting you in person but am thankful that we still have ways to connect. I am also thinking of all of our alumnae in Texas and across the country who are experiencing such challenging weather. I hope you are staying safe and dry.
Please enjoy the latest edition of the alumnae newsletter!
Warmly,
Shannon Gaughf '08
Assistant Director of Alumnae/i Engagement

We look forward to celebrating you at Reunion soon!
Why attend a virtual reunion?
Visit with more classmates! Without the costs of registration, travel, and time off, we hope more alumnae can attend this year's festivities. This gives us the opportunity to gather with our ring sisters and former classmates when we otherwise wouldn't be able to.

Flexibility! You can pop in and out of events whenever it works for your schedule.

Invite the family! Children and partners are more than welcome to join in.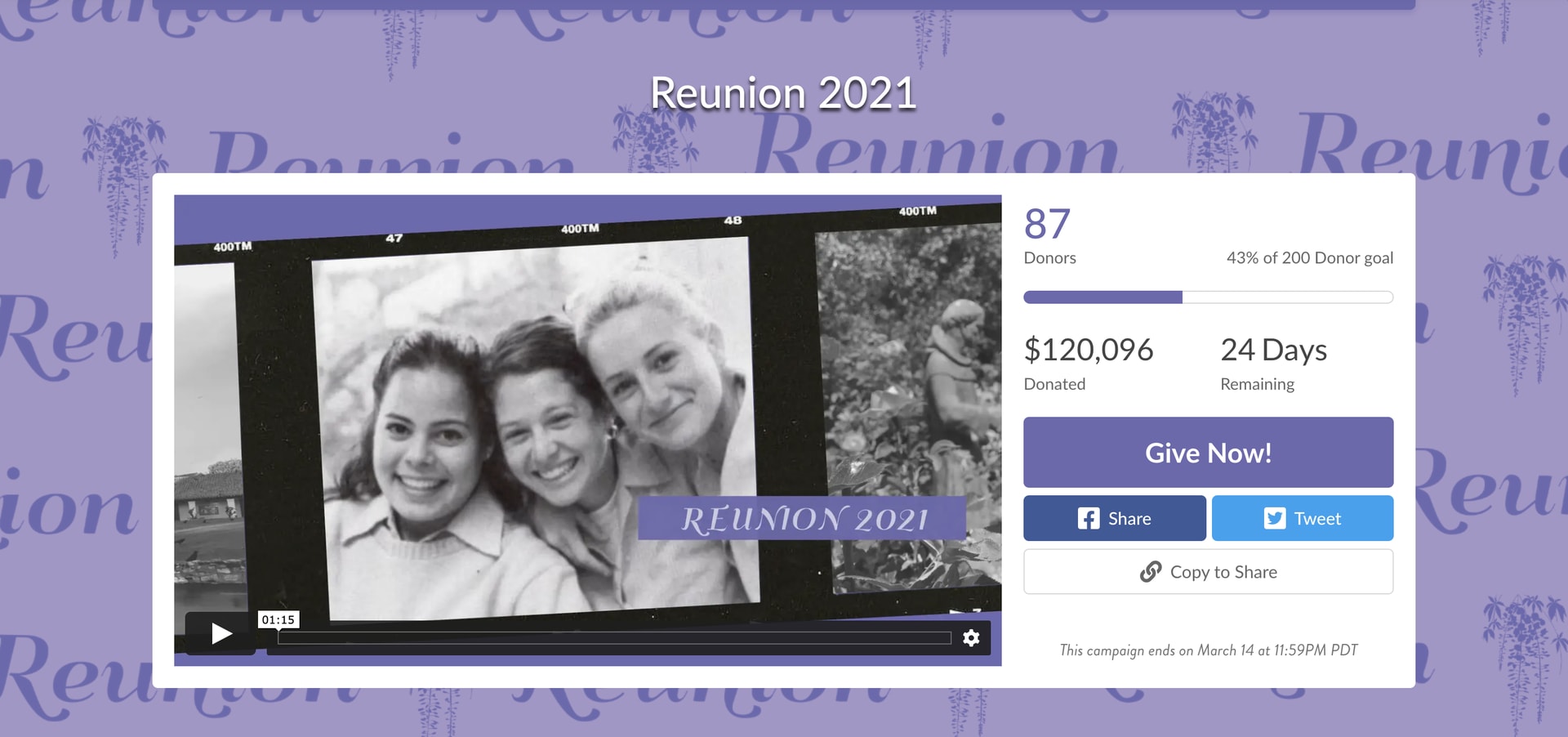 Because we are going virtual, there is no cost to attend Reunion this year. However, we encourage you to make a donation to the Santa Catalina Fund in honor of the people who inspired you and shaped who you are today. Help inspire the next generation of Catalina girls! Visit our Reunion giving site to watch a special video and see where your class stands.
Upcoming Events

Virtual Reunion 2021, Celebrating the 0s, 5s, 1s, and 6s
March 12-14

B. R.E.A.L. Show
Friday, March 12, 7:30 p.m. PST
This year the annual showcase of Santa Catalina's performance clubs will be presented virtually, and will feature:
B.U.R.R.I.T.O. (comedy and improv)
Reverb (music)
ecco! (a cappella)
Accents (dance)
Lady Rhythmics (body percussion)
Saturday, March 13, 5:00 p.m. PST
Please join us virtually for our annual Celebrate Santa Catalina benefit. This complimentary event brings alumnae/i, parents, faculty, staff, and friends together for a celebration of the Santa Catalina community and for special opportunities to support Santa Catalina School.
Clue — ONE NIGHT ONLY!
Friday, March 19, 7:30 p.m. PST
Santa Catalina Theatre Arts, in collaboration with Rehearsal and Performance Drama, invites you to join them for dinner at Boddy Manor. What could possibly go wrong? Based on the iconic 1985 Paramount movie, inspired by the classic Hasbro board game, Clue is a hilarious farce-meets-murder mystery.
Tuesday, April 6, 4:00 p.m. PST
Join alumnae Jalynne Tobias Redman '72, Kathy Trafton '74, and Franca Gargiulo '80, along with Monterey's Casa Abrego Club, for a classical concert featuring award-winning pianist Kevin Navarro, who will perform in the beautiful sacristy of San Francisco's St. Ignatius Church. The concert will feature works by Scarlatti, Mozart, and Chopin, along with selections from the modern version of Romeo and Juliet. The event will be livestreamed on the St. Ignatius Parish YouTube channel.

Thursday, April 29 | Quail Lodge & Golf Club, Carmel Valley
A benefit for Santa Catalina's athletic program. Santa Catalina's athletic program inspires and challenges students of all physical talents and interests to develop confidence, strength, endurance, and sportsmanship—qualities that translate into excellence in the classroom and beyond. So grab your clubs, gather some friends, and come play a round of golf in support of Cougar athletics!
Head of School Search
As previously announced, Head of School Meg Bradley will be retiring in June 2022 after six years of dedicated leadership at Santa Catalina. As stated in her letter to the community, "I will forever treasure the experience of working with so many good, kind, smart, and resourceful members of the Catalina community." Thank you to every alumna who responded to the survey regarding priorities for the next head of school. Your feedback is deeply appreciated.
You can read more about the search for the next head of school here.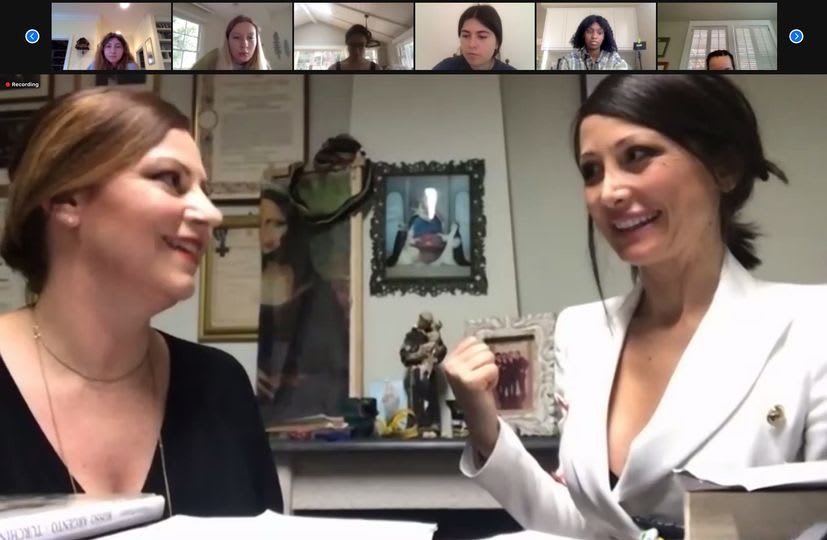 Well-being Day
Huge thanks to Carrie Rodella '91 (left) and Olava Menczkowska '74, who lent their talents to our annual Well-being Day on February 11! Carrie provided interpretation for two sessions, live from Italy, on pasta-making and traditions, while Olava led a Pilates workout for our students.
Well-being Day is a chance for students to reflect and reset as they take part in activities that feed their mind, body, and soul. Read more about this year's event.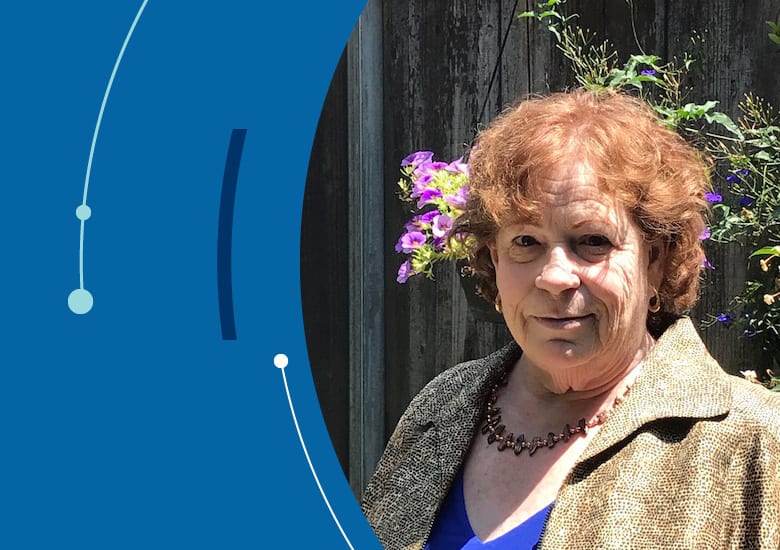 Alumna Named Lecturer of the Year

Grace McLaughlin '69 was named Lecturer of the Year 2020 for the University of California, Irvine, where she has had a 20-year career teaching in The UCI Paul Merage School of Business. She was chosen out of 4,000 instructors. Professor Chris Bauman said: "Dr. McLaughlin's consistently outstanding teaching ratings clearly demonstrate her exceptional talent for connecting with a wide audience of UCI undergraduate students, and some students affectionately joke that they chose to enroll in the 'McLaughlin emphasis' because they enjoyed her courses and the topics so much."
Congratulations, Grace! Read more about this honor.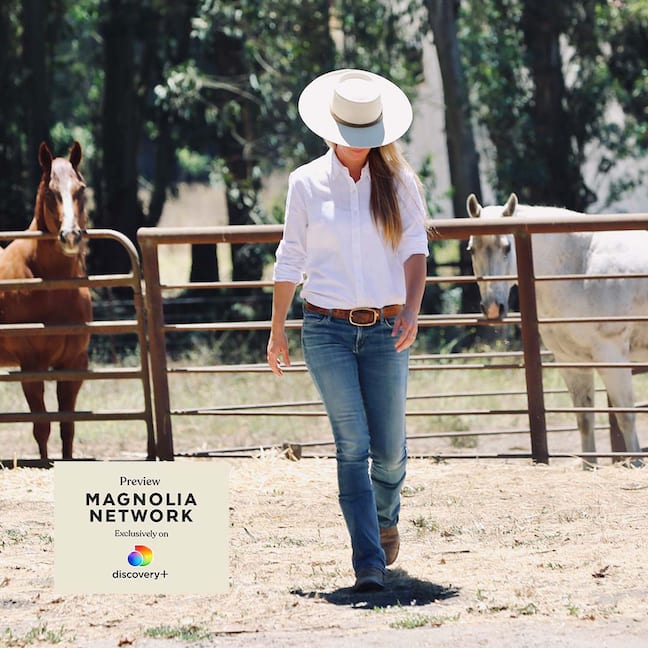 Ranch to Table: A New Cooking Show

Elizabeth Poett '99 has created a cooking show, Ranch to Table, that will be featured on the new network Magnolia, created by Chip and Joanna Gaines. Elizabeth says, "On Ranch to Table I will give you an inside look at what ranch life is like and share many of the easy and delicious recipes that I have created over the years, as well as some old family recipes that have been passed down for generations." You can steam the first episode on the Discovery Plus network now!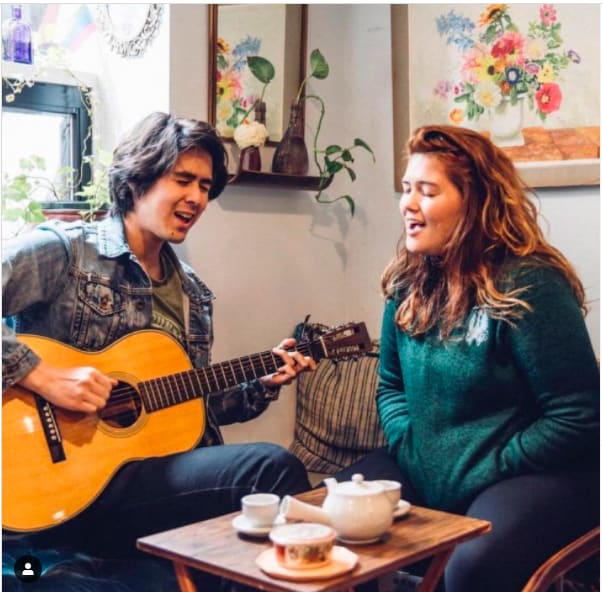 Album Release

Mary Bolt '09 of the singer-songwriter duo Constant Strangers has released a new album of the same name. She is based in New York City and has been performing via livestream recently. Check out the album on their website.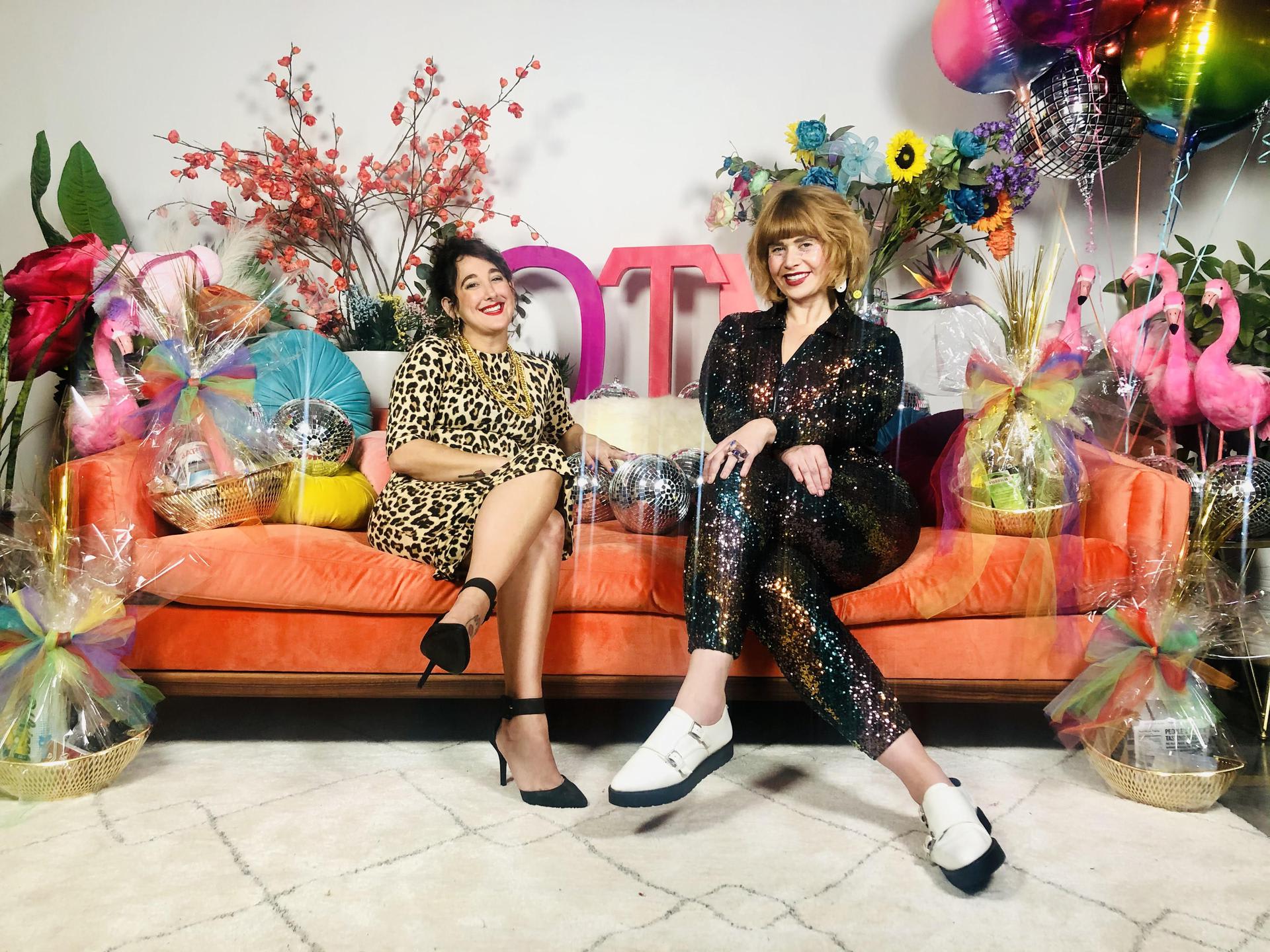 Of The Night: Themed At-Home Experiences for Outrageous Nights In
Entrepreneur Courtney Nichols '06 joined forces with festival producer Blakeshine and conceptualized an offering that packages the brilliance of a night out for a night spent inside. Every month, Of The Night releases a themed experience, delivered directly to your front door. Each package contains themed snacks, beverages, décor, accessories, activities, music, and more.
In addition, Of The Night offers a bounty of themed add-ons, including a Theatrical Delivery, which drops off your experience alongside a doorstep performance. All of the profits from the Theatrical Delivery Add-On goes directly into the pockets of out-of-work actors, many of whom are struggling through the COVID-19 crisis.
Of The Night has delivered over 300 packages and has donated more than $5,000 to both local and global nonprofits. To learn more and donate to their GoFundMe campaign, visit ifundwomen.com/projects/ofthenight.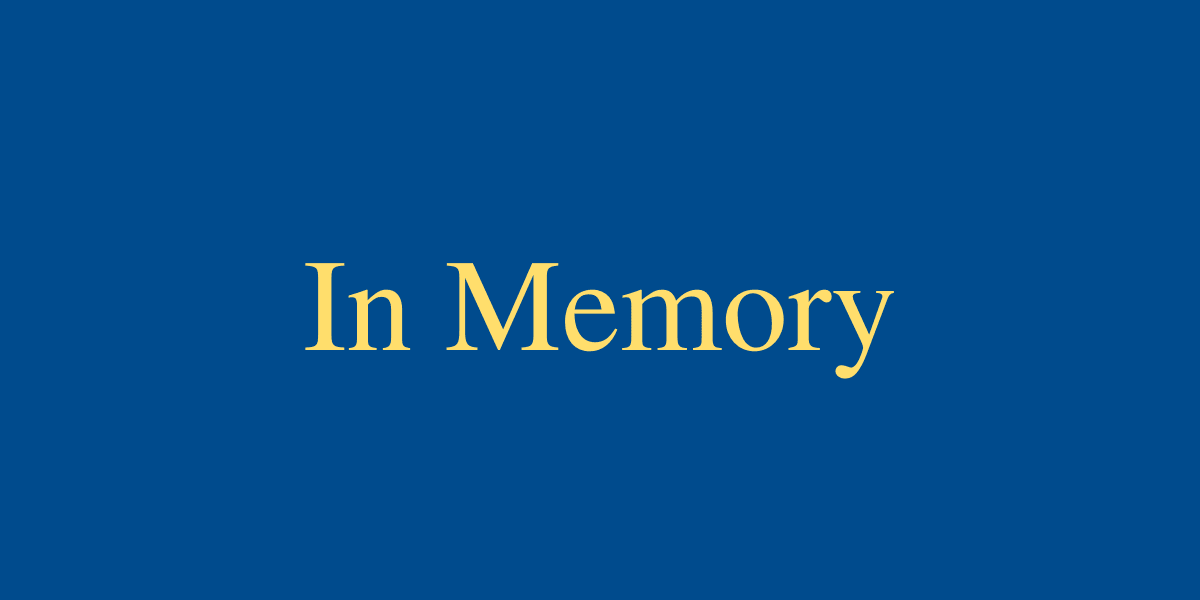 Our thoughts and prayers are with classes who have lost classmates recently.
Patricia Brady '55
Margery Bobbs Johnson '65
Sandi Royce '70
Gabrielle Bemis Batzer '70
*Information about alumnae indicated above was received between December 1, 2020 and February 24, 2021. If you believe we have omitted an alumnae, please contact Shannon.